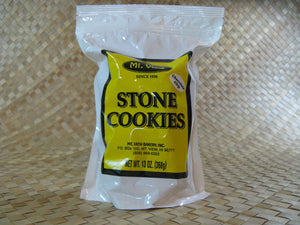 Mt. View Stone Cookies. Made in several different flavors- Original, Raisin, Cinnamon Coconut, Chocolate Chip.  Only traditional texture is available.   Net Weight 13 oz. Resealable packets.  Made in Hawaii.  Established in 1936.

This item is on a pre-order basis.  When ordering, please make a note in the comment section stating which type you prefer.  If do not see your preference, then we will send you the original flavor in traditional texture.
*** NOTE:   We usually fly over to the Big Island (once a month) to pickup more delicious Mt. View Stone Cookies. 
Next trip(s) scheduled for:
October 13-15, 2023 
October 27-29, 2023
November 10-12, 2023 (tentative)
November 23-26, 2023
December 29, 2023-January 1, 2024.
Please email pahoasunrise@gmail.com if you have any questions and to find out when our next trip will be.  We might even have a few extra packets.   Mahalo for your understanding.

Why order Mt. View Stone Cookies from PahoaSunrise.com?
Thousands of happy customers. We are a long-time company (started in August 2000) dedicated to offering popular and unique products from Hawaii with great customer service.  If you are a first-time customer, try us out.
While emails are sent automatically from the system, we will contact you personally to confirm your address and ask you few questions. Then, we will let you know when we shipped out your box.
Refreshing/delicious snack.
Free Shipping.
Freshness.
Ordering larger quantities can save you money.
A wonderful birthday, thank you and holiday gift for a friend or loved one.
Made in Hawaii and shipped from Hawaii..... You can't get any better than that. :)
Shop now.
Store indoors in cool, dry area.
For Frequently Asked Questions- Please click on FAQ below.
If you don't see your answer there, please feel free to contact us by email at pahoasunrise@gmail.com or by calling 808-551-8832.
Thank you for considering PahoaSunrise.com!
Last updated 08/2023