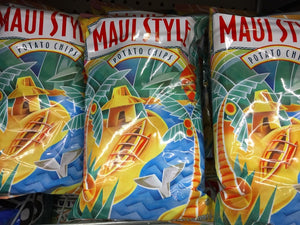 Maui Style Potato Chips.  6 ozs.  Available in Regular, Salt and Vinegar and Maui Onion.  Free shipping from Hawaii.
When placing your order, please let us know which flavor you prefer.  Otherwise, we will send you the popular regular one.
Why order from us?
We have been making people happy since August 2000 with our personalized service.
Products are fresh and good quality.
Ship from Hawaii utilizing USPS Priority Mail.
Mahalo for considering PahoaSunrise.com.