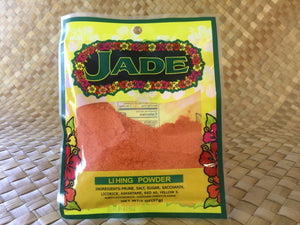 Jade Li Hing Power.  Great for sprinkling on apples, pineapple, oranges, or  gummy bears.  Ingredients:  Prune, Salt, Sugar, Saccharin, Licorice, Aspartame, Red 40,  and Yellow 5.  Phenylketonurics:  Contains Phenylalanine.  Net weight 2 ozs.
Why order Jade Li Hing Powder from PahoaSunrise.com?
Thousands of happy customers. More than 90% percent of our clients are repeat customers.  If you are a first-time customer, please try us out.
We are a long-time, online company (started in August 2000) dedicated to offering popular and unique products from Hawaii with great customer service.
We believe in getting personal with you. While we utilize automated email, we will also contact you personally to confirm your address and ask you few questions. Then, we will let you know when we shipped out your box.  Free Shipping.
Ordering larger quantities can save you money.
Enjoy a treat from Hawaii.
Usually ships within 2-3 business days via USPS Priority Mail.
We ship throughout the United States and APO/FPO addresses. On occasion, we have sent it out to Canada and Japan.
Shop now.
Store indoors in cool, dry area.

For Frequently Asked Questions- Please click FAQ at the very bottom of the page.

If you don't see your answer there, please feel free to contact us by email at pahoasunrise@gmail.com or by calling 808-551-8832.

Thank you for considering PahoaSunrise.com!


Updated 02/2022