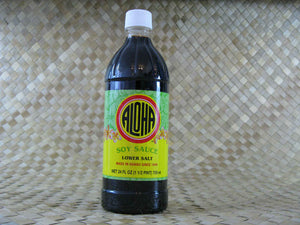 Aloha Soy Sauce - Lower Salt.  A very popular seasoning for just about everything..... meats, chicken, eggs, saimin, rice, fish, etc. Known in Hawaii as Shoyu.  Net weight 24 oz. No MSG. Made in Hawaii.
People often ask us.... where can I buy shoyu (soy sauce) or do you have POG juice for sale? Yes, you can purchase it right here online at PahoaSunrise.com. It is available right now.
Free Shipping.
Refreshing/delicious beverage.
Helps you to escape and reward yourself from a stressful day.
A wonderful birthday, thank you and holiday gift for a friend or loved one.
Our USPS Priority Flat Rate shipping allows you to save more by ordering more.
Made in Hawaii and shipped from Hawaii..... You can't get any better than that. :)

Shop now.

Quantities may be limited, so purchase now.

Store indoors in cool, dry area.


Thank you for considering PahoaSunrise.com!

If you have any questions, please check out our Frequently Asked Questions or contact us. 
We can be reached via email pahoasunrise@gmail.com or by telephone at (808) 551-8832.

Updated 11/2018