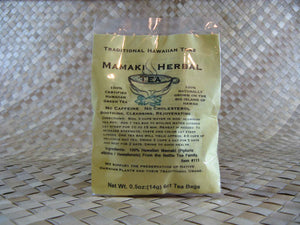 Hawaiian Mamaki Tea Bags. Naturally grown on the Big Island of Hawaii. 6 tea bags per packet. Try the convenience of tea bags. You take it with you to work or on trips. All you need is hot water. Net Weight 0.5 ounces. Made in Hawaii by Traditional Hawaiian Teas. Order today.
Shipping costs are already included in the price.
The Mamaki leaves come directly from Mamaki plants growing in Hawaii's rainforests. The plants utilize nutrients already occurring in the rich forest environment to create a smooth and mild flavor.
According to the grower, no chemicals (such as herbicides and pesticides) and fertilizers are used.
Possible Health Benefits: People order Mamaki tea for naturally helping to control hypertension, seasonal allergies and other illnesses. This nformation based on customer responses.
**Allergy/Caution: Pregnant or nursing women and individuals with serious illnesses should contact your physician prior to drinking the tea. The FDA has not verified any health claims.
No caffeine and cholesterol. 100 percent Hawaiian green tea certified.
Ingredients: 100% Hawaiian Mamaki (Pipturis Albidus)
Directions: Boil 3 cups of water in non-aluminum tea pot. Add 1 tea bag to boiling water. Cover. Let steep for 10 to 15 minutes. Reheat if needed. To increase strength, taste and color, let it steep for longer. One tea bag will yield approximately 4-6 cups of delicious hot Mamaki tea. Drink 3 cups a day for 5 days and rest for 2 days. Drink to good health.
Storage information: Keep in cool and dry location. Place in a box or plastic container.... or better yet, a container made out of metal and out of direct sunlight.
Even though 6 is the last quantity listed, you can order a higher amount if inventory is available. The system will calculate your new price based on the average cost of 6 items.
Thank you for considering PahoaSunrise.com!
Here are a number of reasons to shop with us....
- Thousands of happy customers. We are a long time company (started in August 2000) dedicated to offering popular and unique products from Hawaii with great customer service. If you are a first time customer, check us out.
- Our personal touch. We send out only one automated email confirming your order. After that, we will contact you personally to confirm your address and ask you few questions. Then, we will let you know when we shipped out your box.
- Our shipping costs are already included in our prices (for shipping within the United States and APO/FPO addresses. 
- We guarantee our products. For example... if the juice can arrives leaking, we will do our best to make things right. We will offer to issue you a credit or send you a can to replace the damaged one.
- Most of our items are Made in Hawaii. If not, we will be upfront and let you know on our product page.
- We can send our products to a different address. For instance, you want to send a box of chocolate or flowers to your daughter for her birthday, we will be more than happy to ship it there.
- We send all of our items out from Hawaii. You can't get better than that... receiving something from paradise. :)
For Frequently Asked Questions- Please see left menu bar.
If you don't see your answer here, please feel free to contact us by email at pahoasunrise@gmail.com or by calling 808-551-8832.
Thank you for considering PahoaSunrise.com!
Updated 3/2018