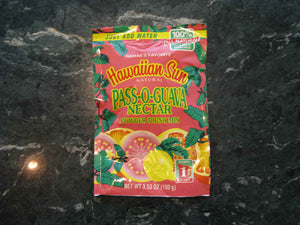 Hawaiian Sun Passion Orange Guava Powder Drink Mix. Net Wt. 3.23 ozs. Just add water. 1 quart water with 1 package Hawaiian Sun drink mix.
Distributed by Hawaiian Sun Products.
Availability: Yes, it is available. Order today!
Storage information: Keep in cool and dry location.
Shipping costs are already included in the price (also known as free shipping).
- Easy and convenient. All you need is water to make this refreshing, delicious beverage.
- Helps you to escape and reward yourself from a stressful day.
- A wonderful birthday, thank you and holiday gift for a friend or loved one.
- Our USPS Priority >>>Flat <<<< Rate shipping allows you to save more by ordering more.
Shop now.
Higher Quantity.... If you would like to order more than the quantity listed above, please feel free to input the desired amount. The system will calculate your price based on the average cost of the items stated above.
Quantities may be limited, so purchase now.
Tip: You might be able to save some money if you order larger quantities.
Order 1= Receive 1 packet (Shipping Cost $7.20 included)
2= Receive 2 packets (Shipping Cost $7.20 included)
3= Receive 3 packets (Shipping Cost $7.20 included); Customer Favorite
4= Receive 4 packets (Shipping Cost $7.20 included) ; Most Popular Amount!
5= Receive 5 packets (Shipping Cost $13.65 included)
Here are a number of reasons to shop with us....
- Thousands of happy customers. We are a long time company (started in August 2000) dedicated to offering popular and unique products from Hawaii with great customer service. If you are a first time customer, check us out.
- Our personal touch. We send out only one automated email confirming your order. After that, we will contact you personally to confirm your address and ask you few questions. Then, we will let you know when we shipped out your box.
- Our shipping costs are already included in our prices (for shipping within the United States and APO/FPO addresses. Almost all of our items (except for our tropical flowers) are sent out via USPS Priority Mail.
- We guarantee our products. For example... if the juice can arrives leaking, we will do our best to make things right. We will offer to issue you a credit or send you a replacement.
- Most of our items are Made in Hawaii. If not, we will be upfront and let you know on our product page.
- We can send our products to a different address. For instance, you want to send a box of chocolate or flowers to your daughter for her birthday, we will be more than happy to ship it there.
- We send all of our items out from Hawaii. You can't get better than that... receiving a gift or item from paradise. :)
For Frequently Asked Questions- Please see left menu bar.
If you don't see your answer here, please feel free to contact us by email at pahoasunrise@gmail.com or by calling 808-551-8832.
Thank you for considering PahoaSunrise.com!
Last updated 3/201